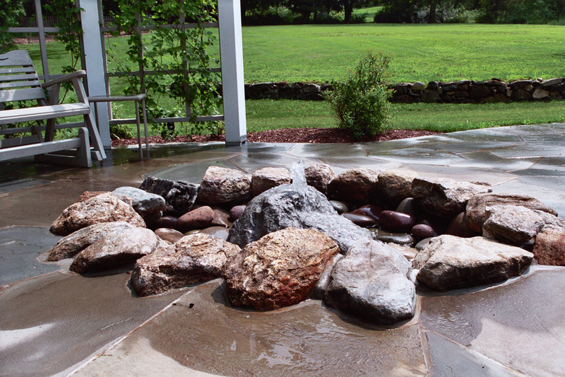 7 Things You Should Expect from Your Landscape Architect
Site Analysis

The first step is to meet with your landscape architect and "walk the property." This will help him to better understand what you want to accomplish.  A good landscape architect will consider the property's natural resources as well as the home's history and individuality.

Garden and Planting Design

You probably have some ideas about areas on your property that are ideal for gardens.  Flowers and Gardens add substantially to the beauty and aesthetics of  your home.  And can make "just sitting outside" a thing to do.  Discuss this with your architect and they should be able to provide with you some additional ideas.  At this time, you should begin to feel like your architect has a sense of what you are looking to accomplish.

Landscape Design

There are many possible elements  that need to come together to develop a concept for your yard.  Now your architect should begin discussing some of the details with you such as layout, lighting and amenities as you begin to consider the possibilities.

Three Master Plans

Next you should be provided with drawings so you fully understand how the property will look before turning a single stone.  3 Master Plans should be provided so that you may fully explore the potential of  your home's landscape and amenities before you begin.  At this time you will want to consider the Landscape Design as well as the placement of possible amenities such as a swimming pool, spa, pool house, deck, patio, or maybe even a putting green or tennis court.  And don't worry a good landscape architect will also take care of the less exciting necessities such as utilities, septic, driveways etc..

Paperwork Management

As with anything to do with your home there is plenty of paperwork.  Processing the permits with the municipalities properly and accurately can really save time and money.  A local landscape architect who has been doing this for a while will provide all proper documentation to secure the necessary permits you will need to get started.

Construction Administration

The detailed plans and specifications you'll need to provide for contractors who bid on the project should be done for you.  This will allow contractors to bid accurately and you will end up with estimates you can trust. The Landscape Architect should be willing to review and evaluate these bids and make recommendations as needed.  You should also feel confident as the job progresses as your architect continues to monitor the construction and provide on-going support.

Final Inspection

When the job is complete, you will want to know it was done right. A good Landscape Architect will thoroughly go over the property and prepare a "punch list" for you so that you know it was done right and you can just enjoy!!!